"That first box seriously got my creative juices flowing again, and
I get so excited whenever I see a Burly Bundle box on my porch now."
-Pandora Disaster
Burlesque Performer & Burly Bundler
Best Burlesque Craft Bundles Ever!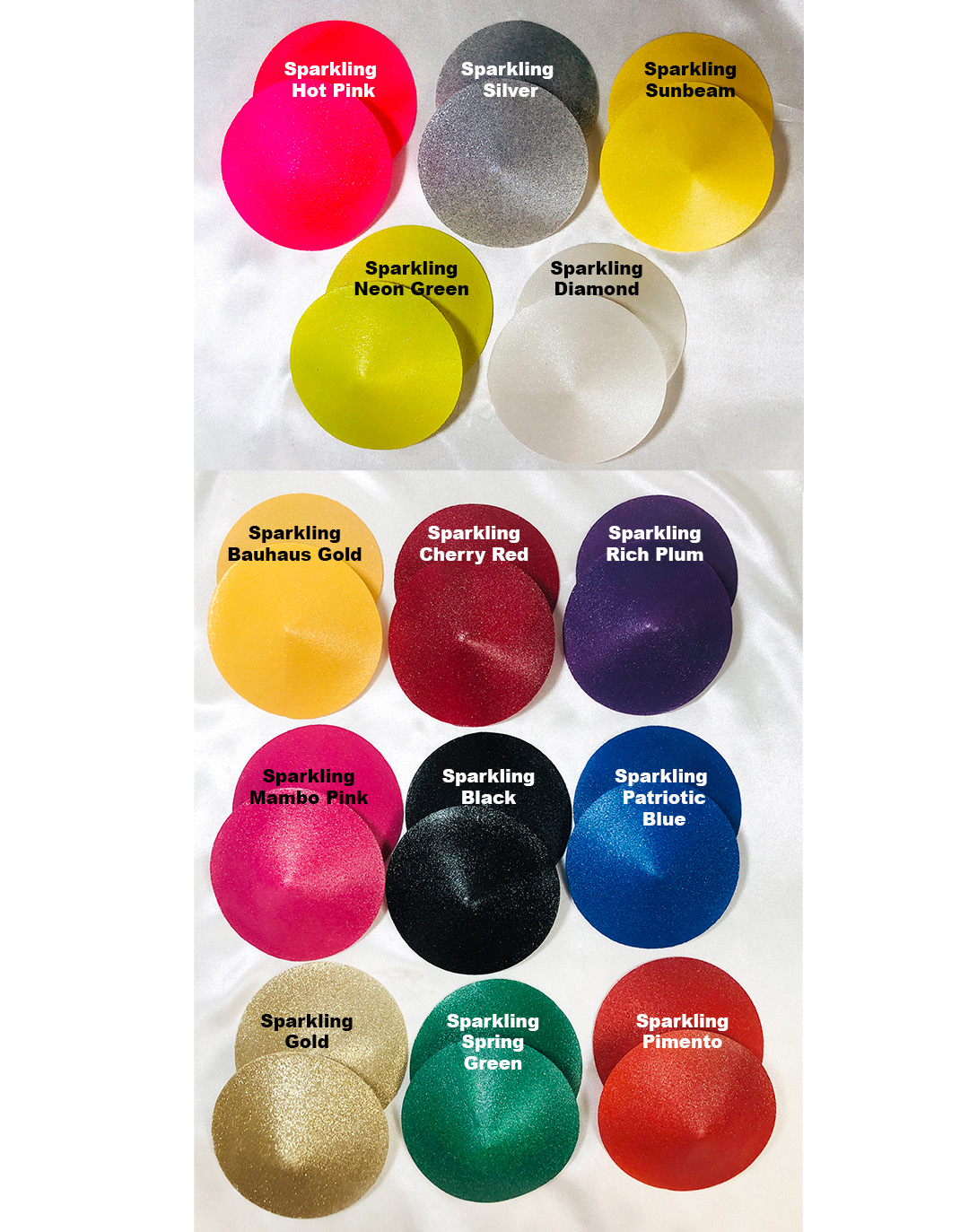 Hey Beautiful,

when you subscribe to
Burly Bundle,
Get ready for a delightful surprise craft bundle of the next beautifully-designed burlesque costume accessory
Your bundle ships to you on the first available ship date*
Bundles are billed and shipped every other month

Free Shipping for your Bundle
(US Shipments Only)
For International Shipments,
please refer to our Shipping/Returns page for Information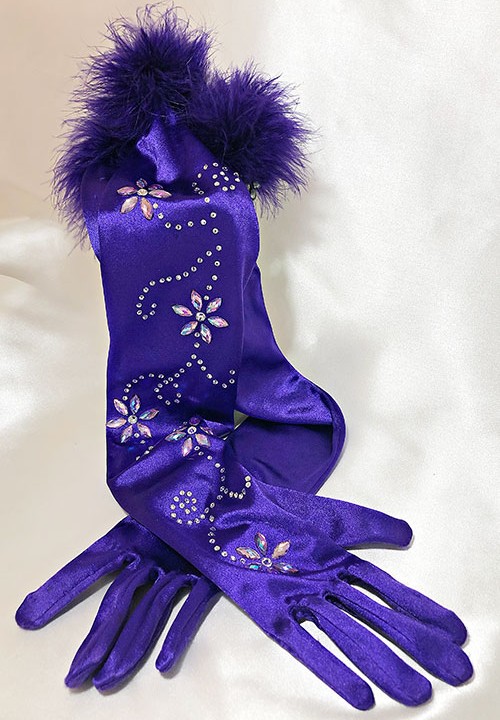 Next Craft Bundles Ship January 15th
Order Cut-off is December 31st.*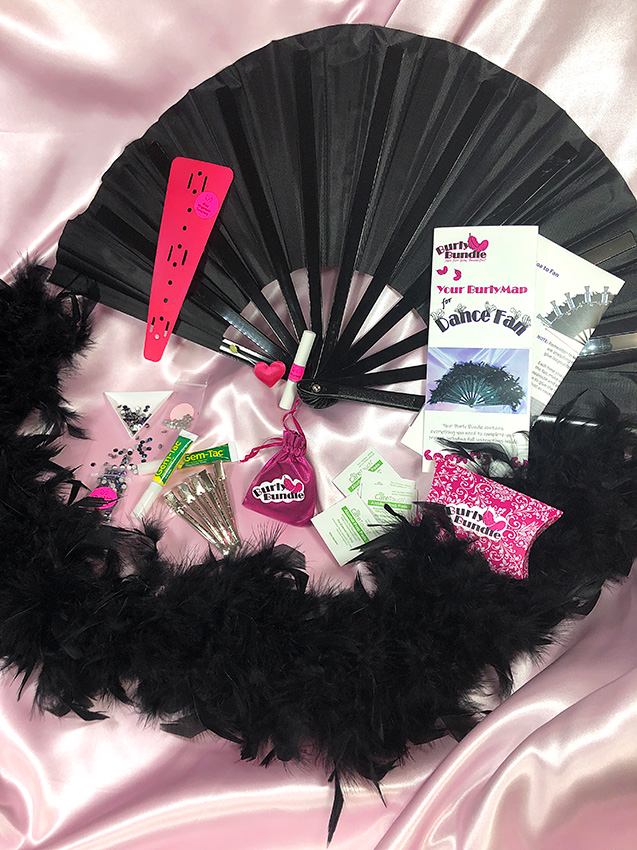 1 Bundle offers you
Our Most Flexible Craft Bundle!
A one bundle committment to a
Burly Bundle subcription*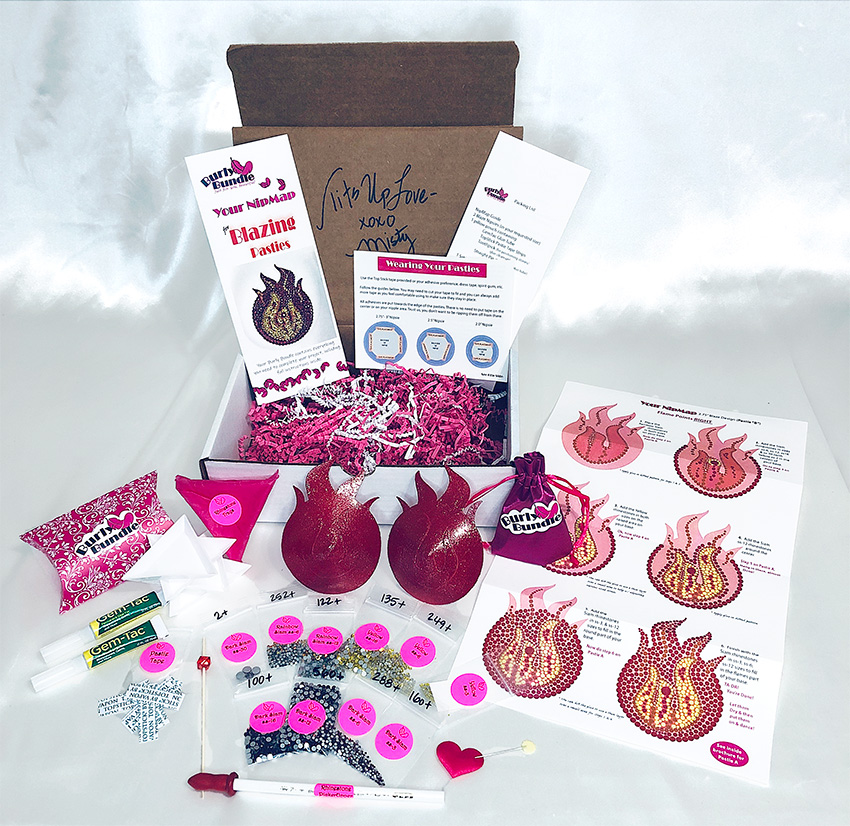 3 Bundles offers you
1/2 a year of Burly Bundles coming your way
with a $6 savings on your subscription plan*
6 Bundles offers you
$30 savings on your subscription plan!
A full year of Beautiful Burly Costume Accessories for your crafting and wearing pleasure*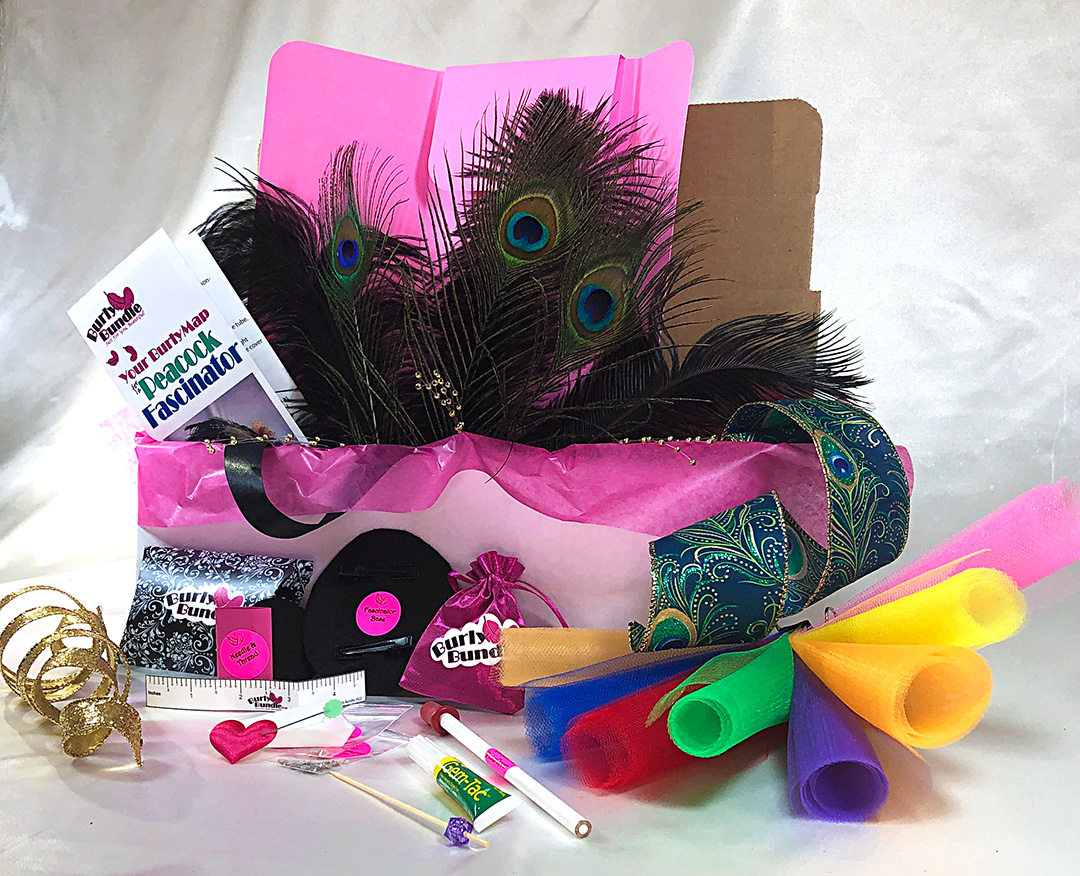 "Burlesque is a seductive, rhythmic, and often hilarious form of storytelling from stage. One not only fueled by passion, but also accessorized with pasties!"
-D. Wolf
Boylesque Performer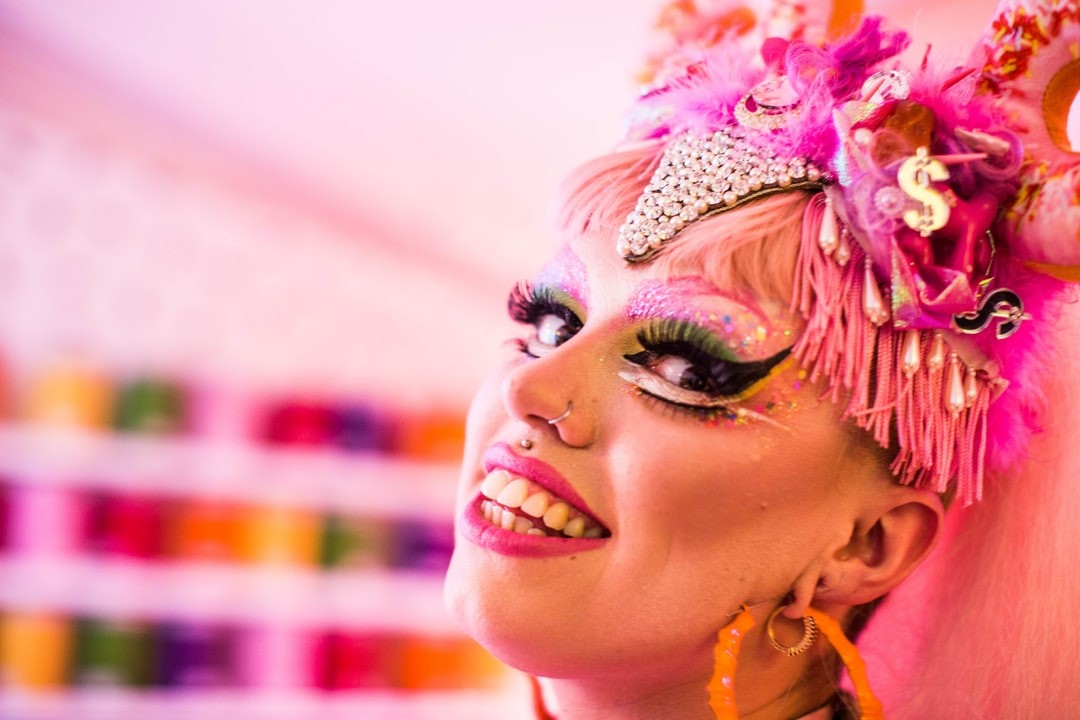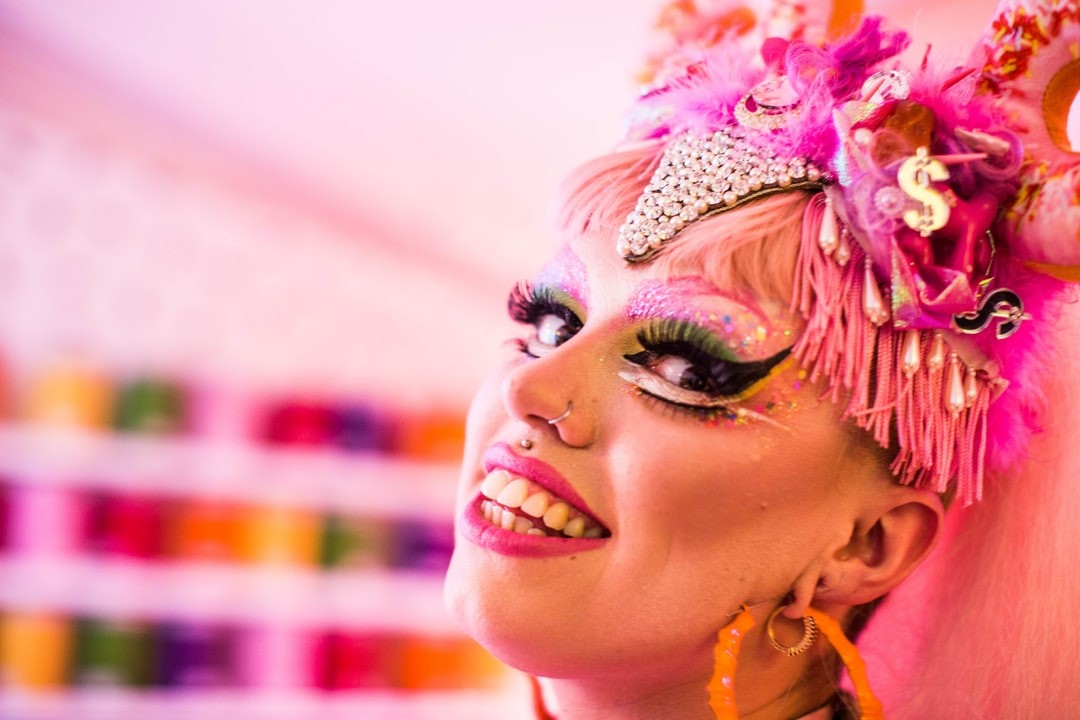 We offer
Gift Certificates

or

You can Gift a Subscription!

Add subscription to your cart and

"Make it a Gift"
Next Bundle - delivering January 2022

Mardi-Gras/New Years Filigree Mask

Delivered November 2022
It is that festive time of year and what better way to celebrate than to prepare with a New Years/Mardi Gras mask with removable fascinator. This metal filigree mask is beautiful on its own and brilliantly dazzling when rhinestoned in 4 different colors.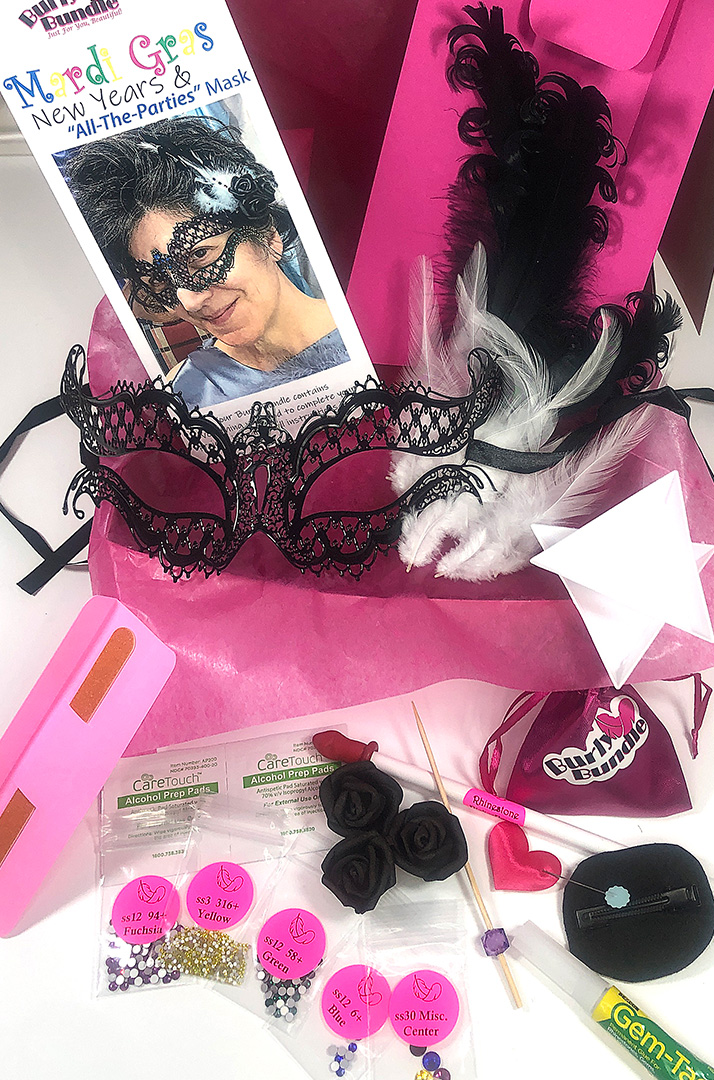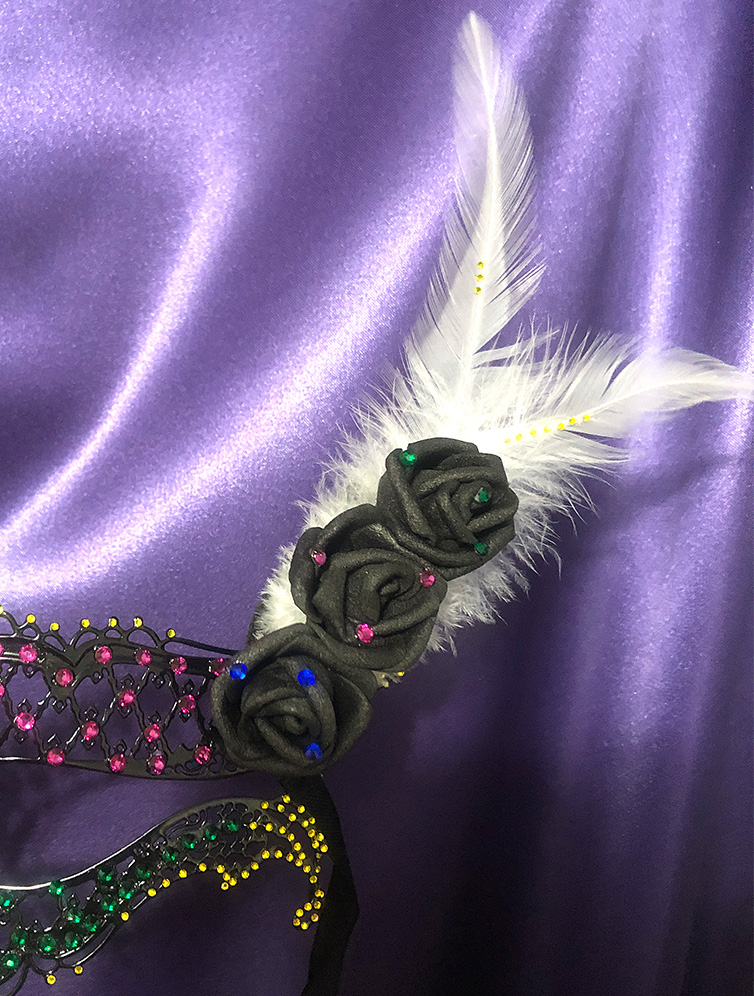 Removeable Mask Fascinators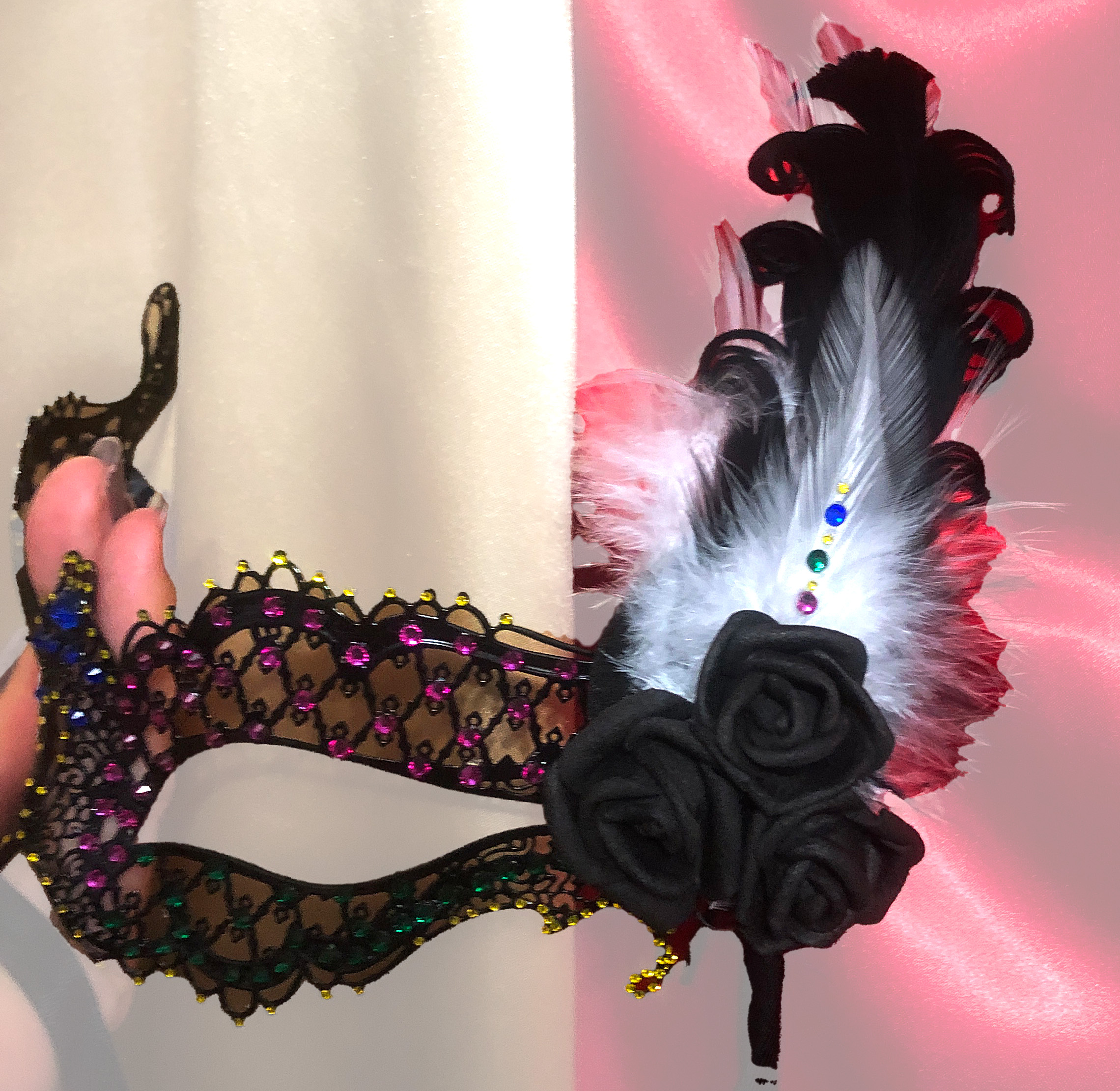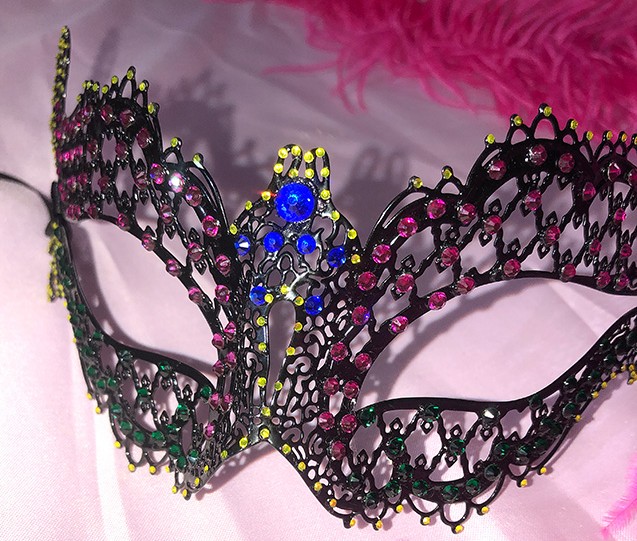 The Mardi Gras/New Years Filigree Mask Craft Bundle includes: 1 metal filigree mask, rhinestones in Cobalt Blue, Fuchsia, Citrone Yellow and Emerald Green, and Black Nagori Goose and White Saddle Hackle Feathers with black roses for the mask fascinator. Bundle also includes all the glue, tools and instructions.

Flower-Power Tassel Pasties

Delivered September 2022
"Everything is Groovy......"
Our Bundlers had a few fun choices with this Groovy bundle. They got to choose "Wild Child" Pink or "Cool, Laid Back-ish" Blue flower pasties with super spinners to decorate. (or they could choose one of each and really be Groovy!) The bundle also featured a 2-set Tassel Bundle so tassels could be made and worn to match their mood. One set in lime green and the other in sky blue.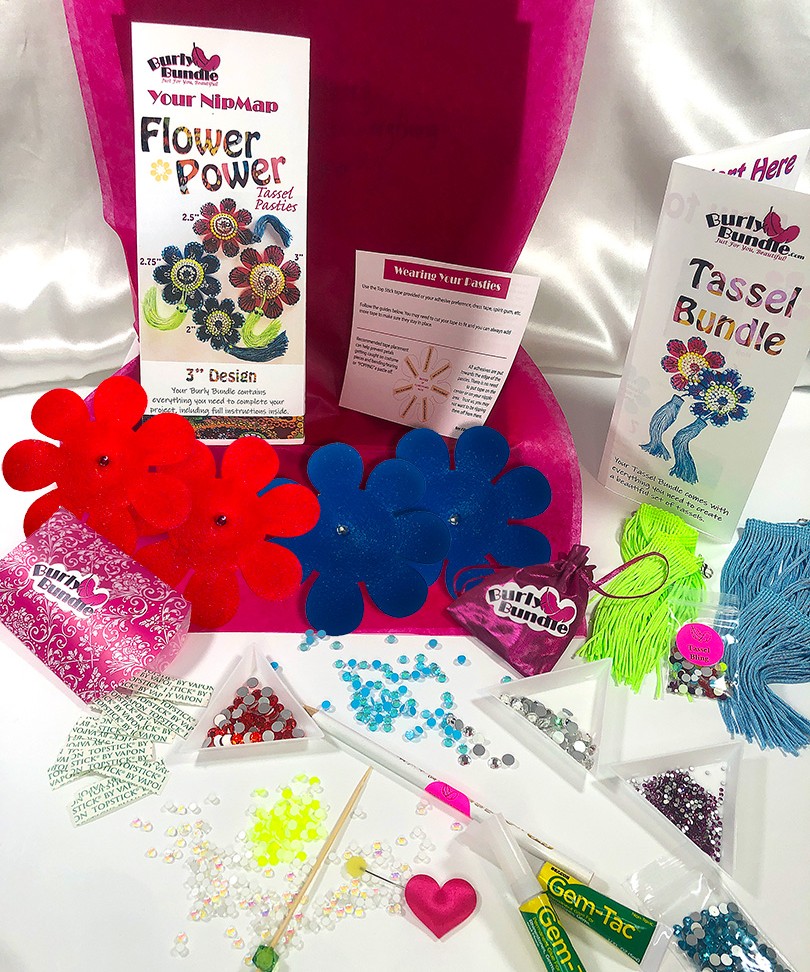 The Flower-Power Tassel Pasties Craft Bundle includes: 2 sets of spinning Flower-Power pasties (one set in "Wild Child" Pink and one set in "Cool, Laid Back-ish" Blue), a 2-set Tassel Bundle (lime green & sky blue), over 1,550 rhinestones for the pasties chosen and both sets of tassels as well as all the glue, tools and instructions needed to make and wear the grooviest pasties.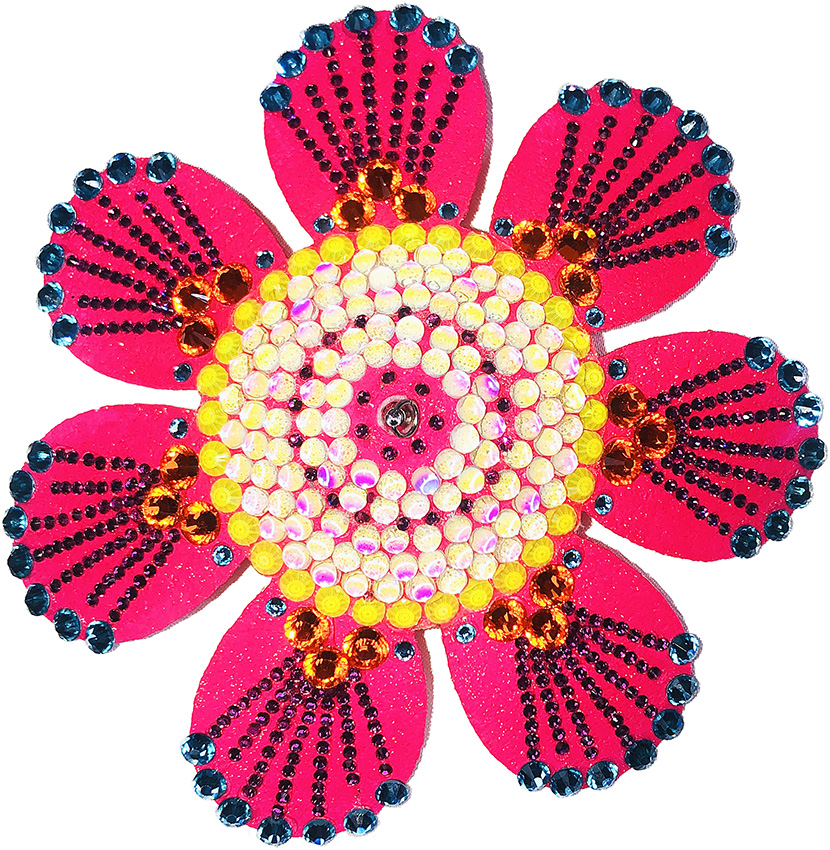 Feathered Dance Fan

Delivered July 2022
"Do Be Mysterious......"
Something fun and easy, this large fan with a crisp "clack" to it when snapped open, combined with a mid-weight boa and rhinestones provides a great dance fan for fun or stage. The subtle Rainbow Black Rhinestones give off a wide range of reflective colors in pinks, blues, purple and gold so that this fan will work for a variety of costume/clothing colors. 
The crystal clear stones are added for a sparkling contrast on the black feathers.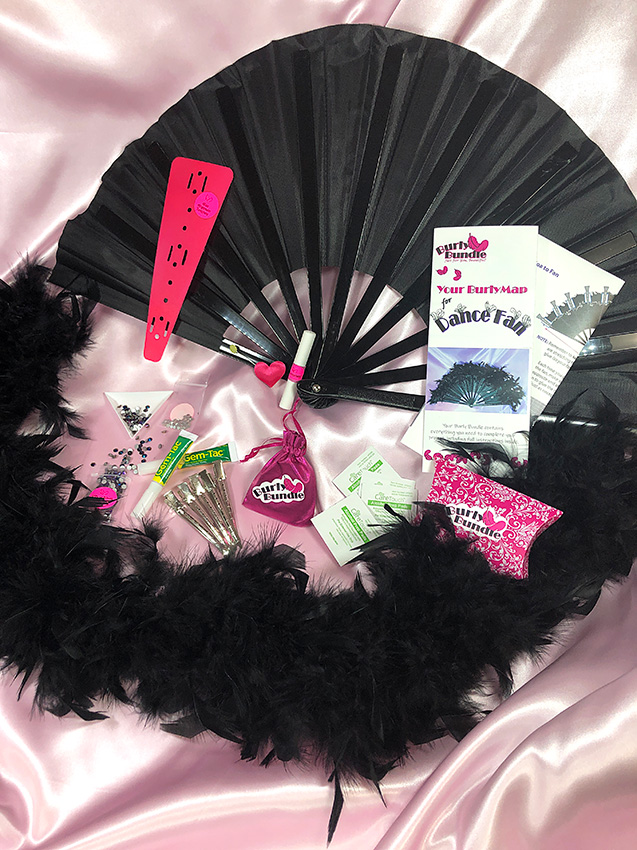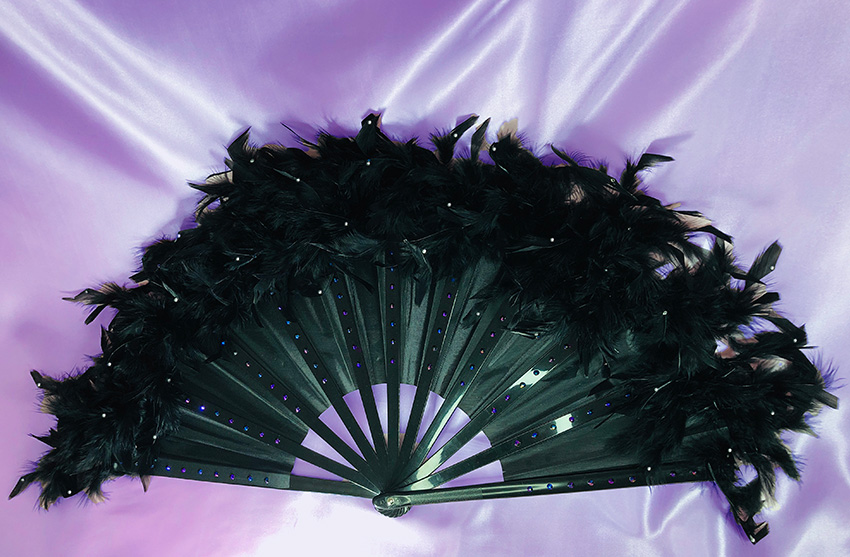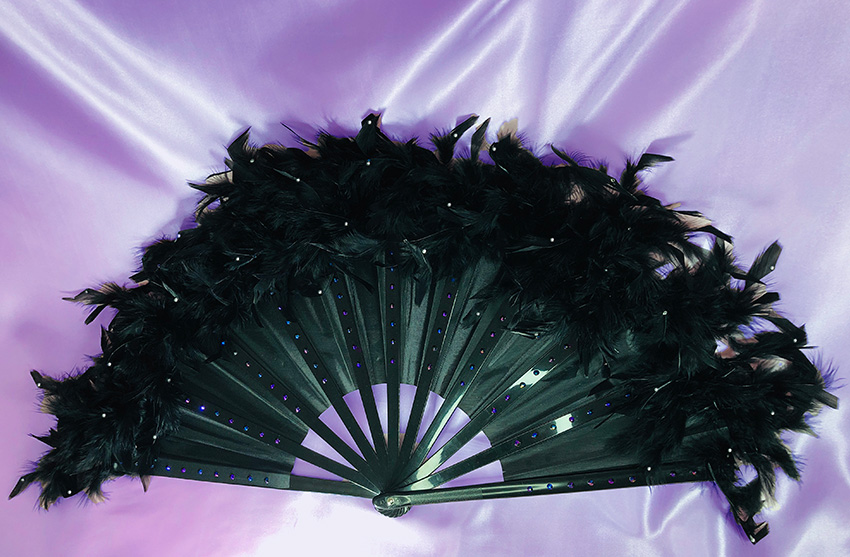 The Feathered Dance Fan Craft Bundle includes: A large 25" x 13.5" Black fan, 36" Mid-weight Black Boa with rhinestones on both sides. (270+ rhinestones in Rainbow Black and Crystal.) Custom glue template, instructions, alcohol pads, parchment, duckbill clips and glue for securing together.
The Peacock Fascinator

Delivered May 2022
"Go Big, or small - Choose Tall or short. Pick Green or Red or Blue or...."
This bundle allows our bundlers to create a personalized fascinator by choosing the height and number of feathers, the color/s of tulle and the options of adding rhinestone accents and glitter ribbons.
Designed to be worn in multiple locations with our sure-grip, dual clip fascinator base.
A Burlesque Classic!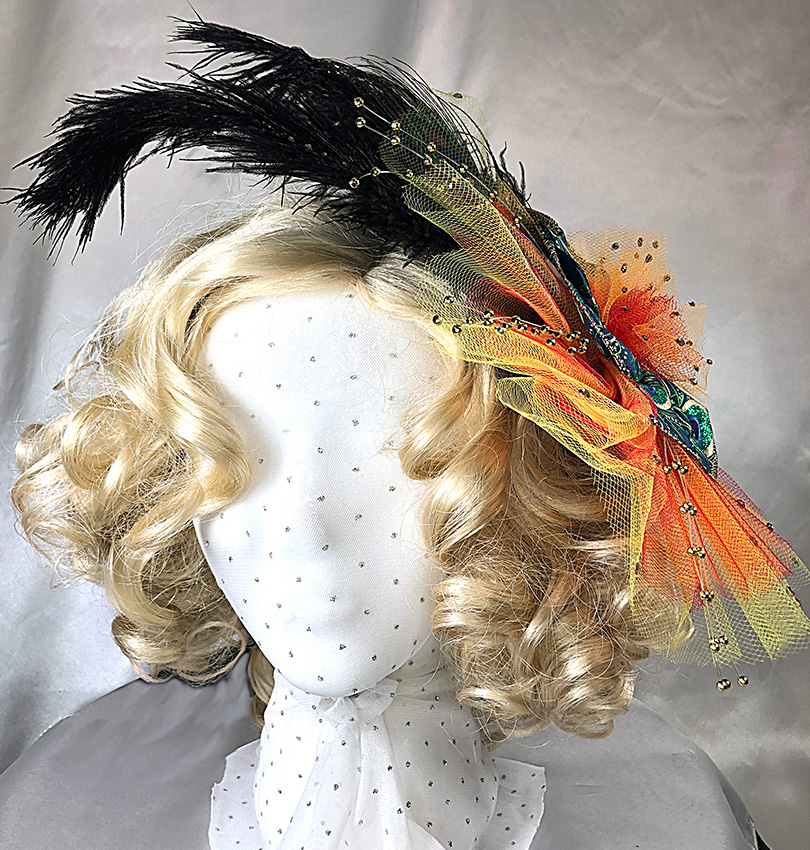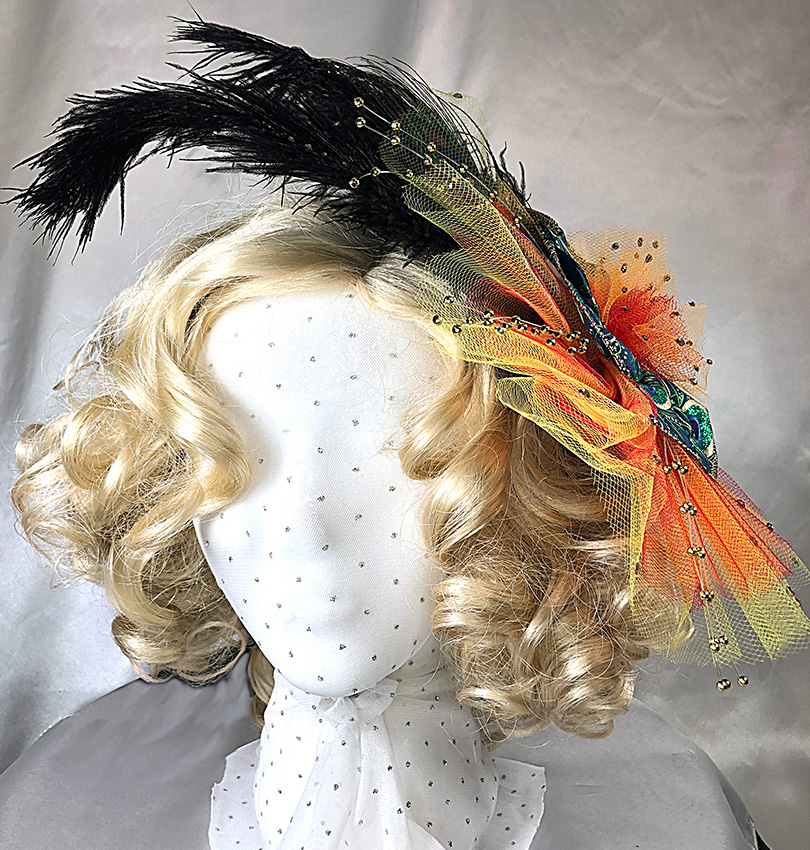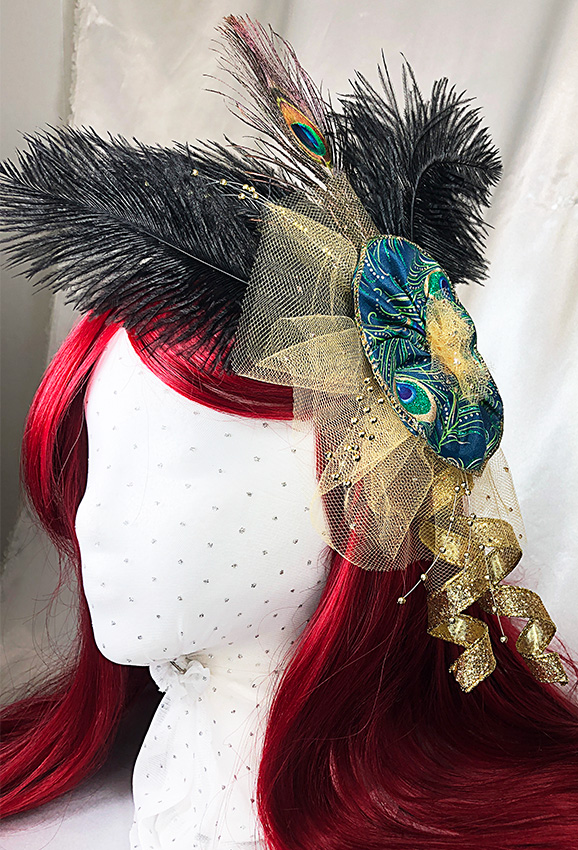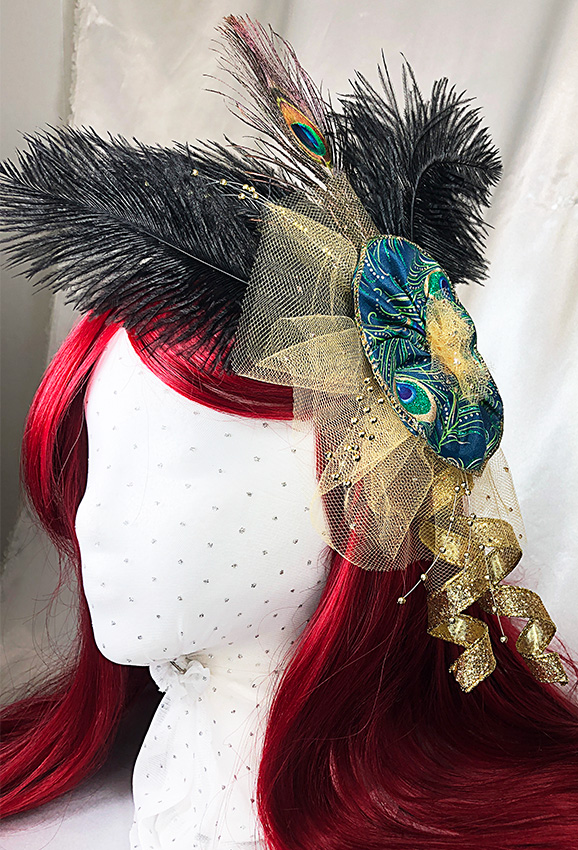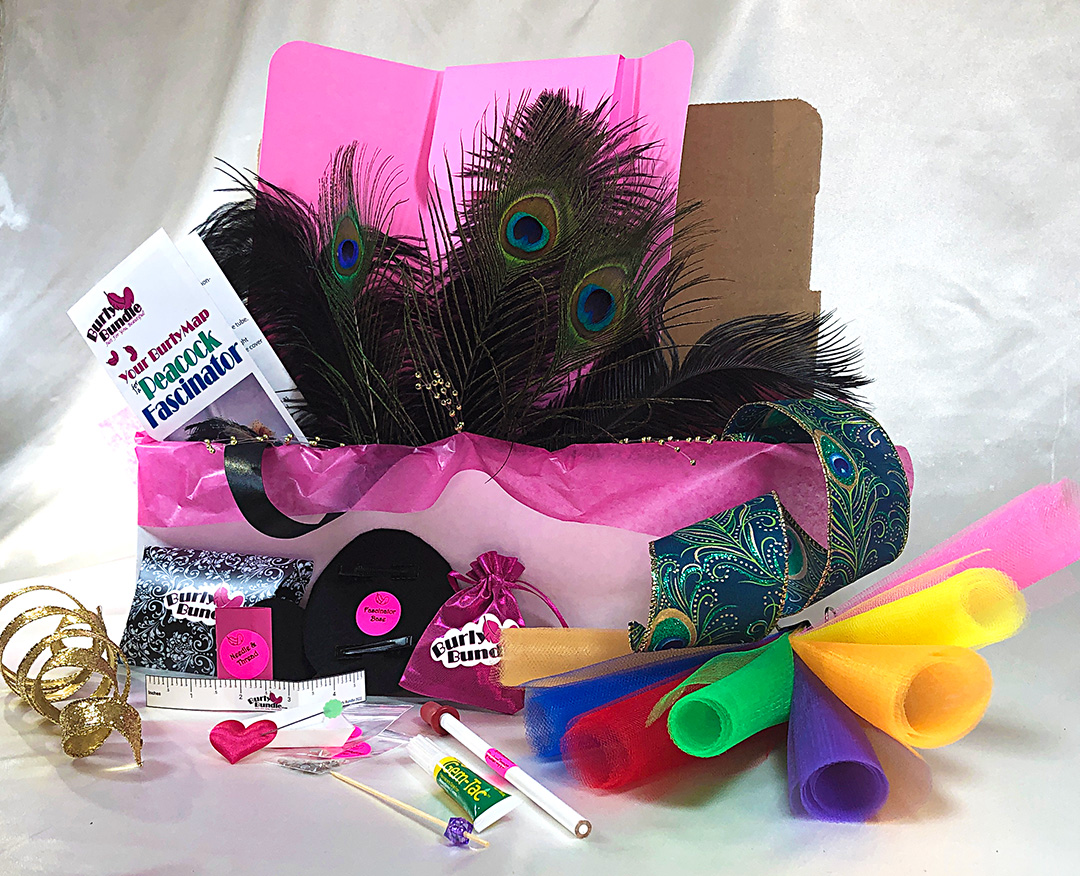 The Peacock Fascinator Craft Bundle includes: 3 ostrich & 3 peacock feathers (ethically harvested, fallen feathers), a peacock ribbon and 8 different tulle colors to choose from or combined for a color combination that works for them. Champagne rhinestones and gold accent strands and ribbon add sparkle. Complete with instructions, Sure-Grip, dual clip fascinator base and even glue.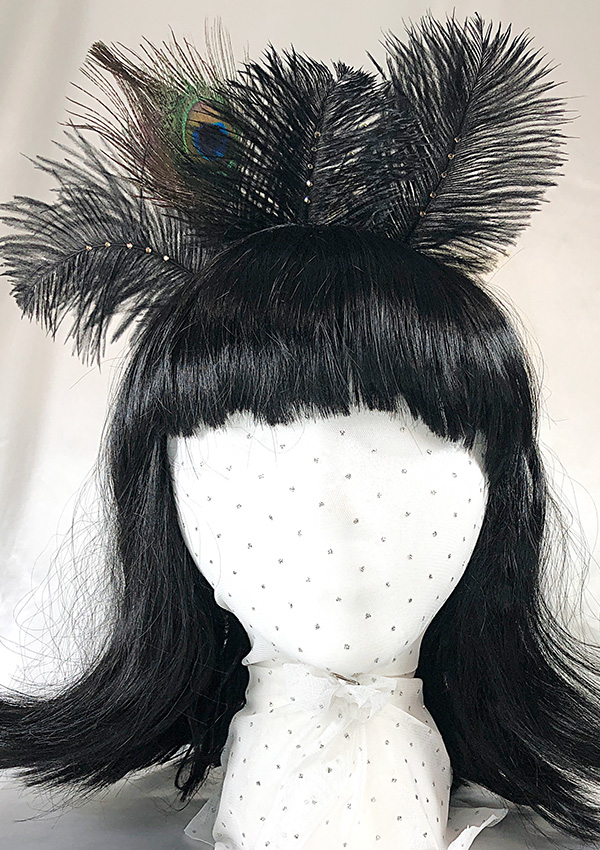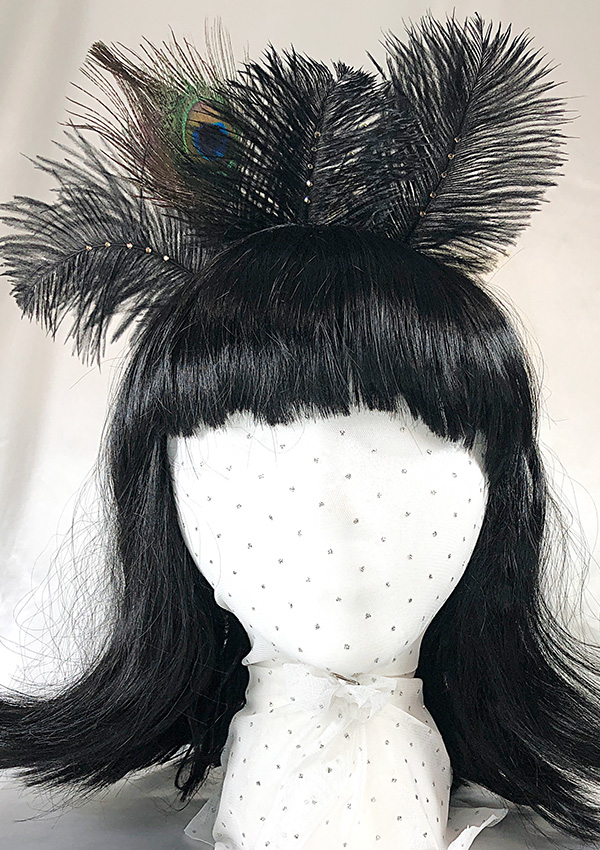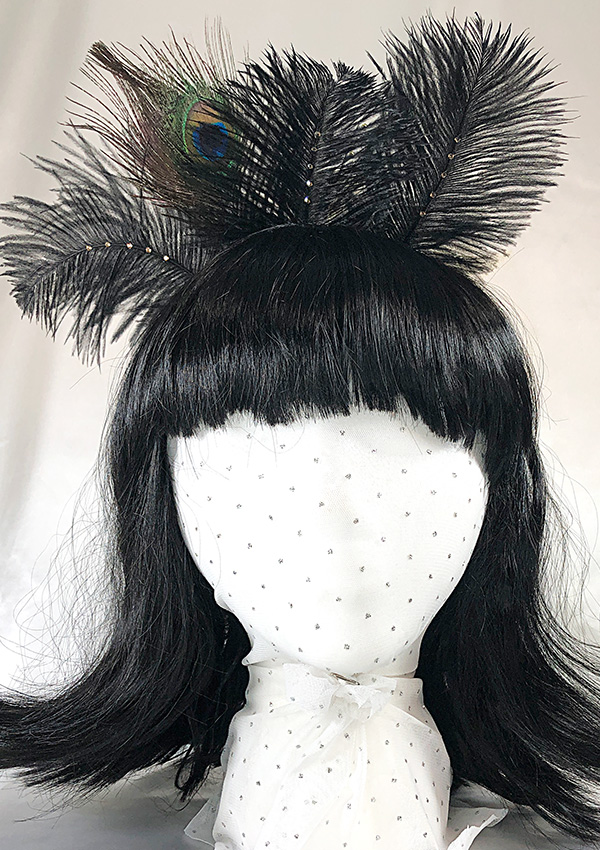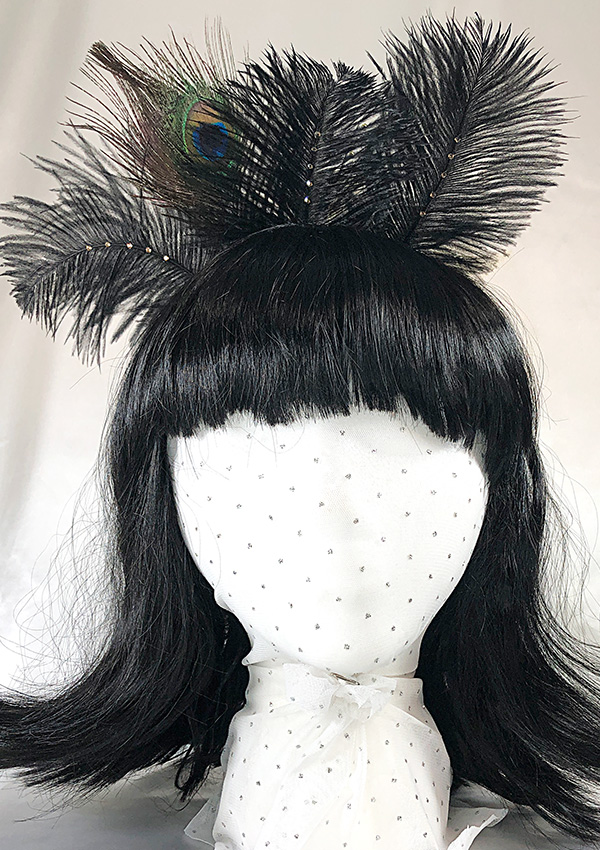 Blazing Pasties

Delivered March 2022
Sizzling Hot! Hot! Hot!
  The Blazing Pasties are a custom-designed flame shape designed as a full-bling pastie with rhinestones packed in for Maximum sparkle.

Flaming Hotness for the Ta-Ta's!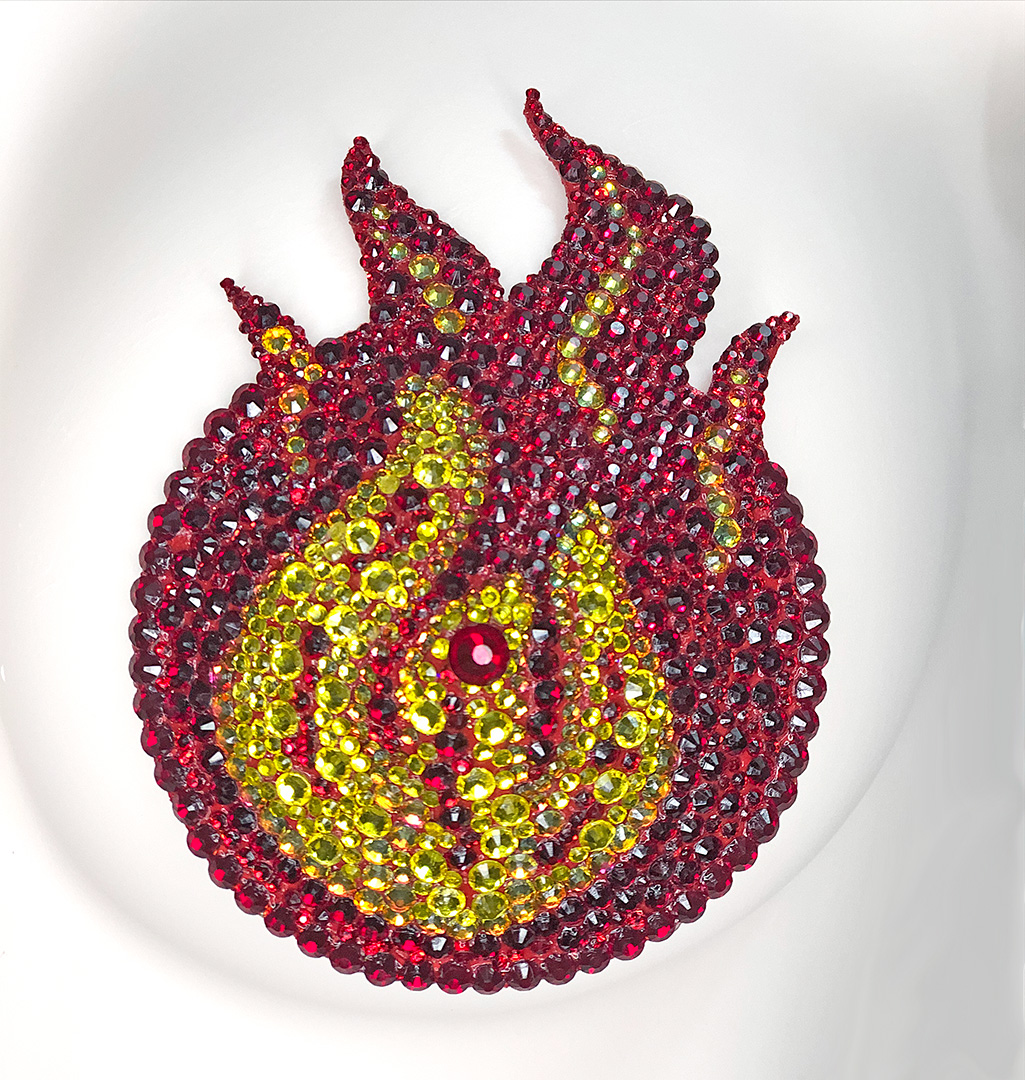 2.5" - 3" Blazing Pasties Design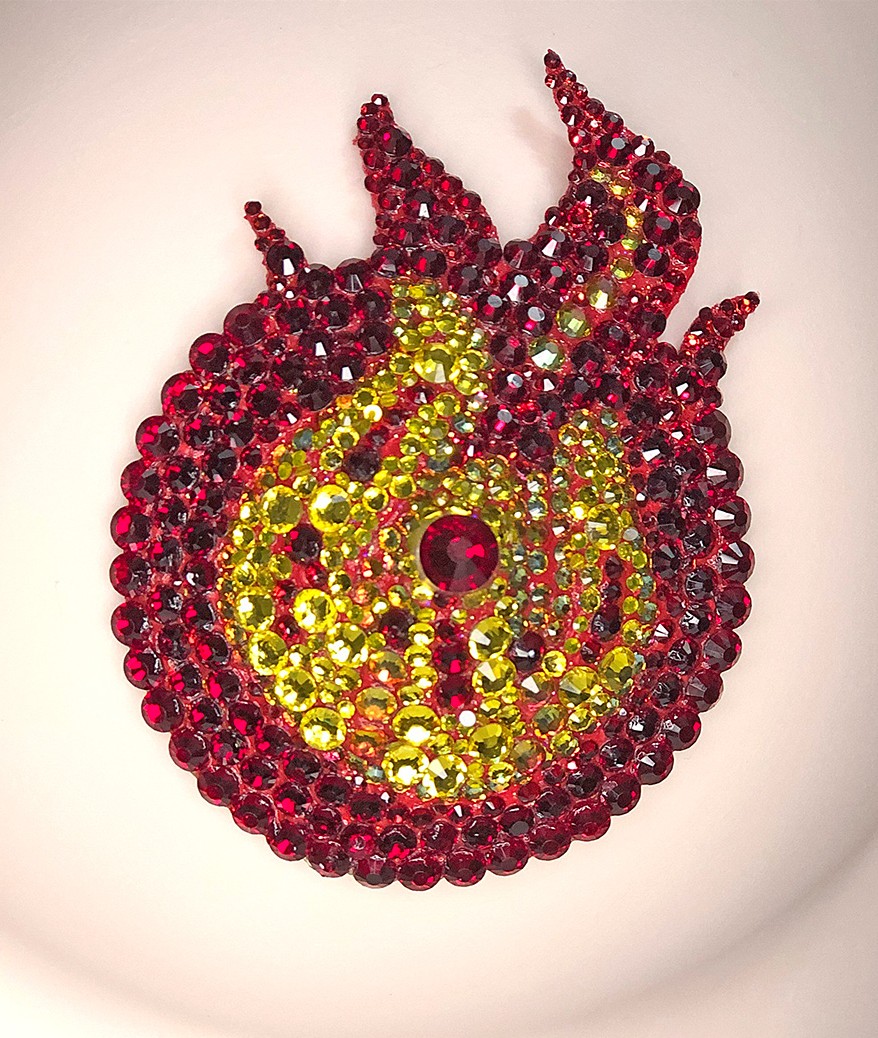 2" Blazing Pasties Design
Blazing Craft Bundle includes: Custom-Designed Flame Pasties with a
raised flame in the center. The bundle includes 883+ - 1866+ glass rhinestones in Dark Siam, Rainbow Siam & Yellow. Gem-Tac glue, TopStick pastie tape, 4 rhinestone trays, rhinestone pickerupper, misc tools, full instructions and video support.   
Sparkling Chevrons Gloves

Delivered Jan 2022
Beautiful Silver Satin & Sparkle.
  The Sparkling Chevrons were designed to offer you a variety of effects to show off to your audience, whether on stage, in private or wearing them to an event.

A Burlesque Wardrobe Staple!
Chevron Gloves Craft Bundle includes: A pair of Silver Satin over the elbow gloves with 860+ glass rhinestones in Silver & in 2 sizes. Gem-Tac glue, tape measure (not pictured), 2 rhinestone trays, rhinestone pickerupper,  #2 pencil & full instructions with video support for the Chevron template.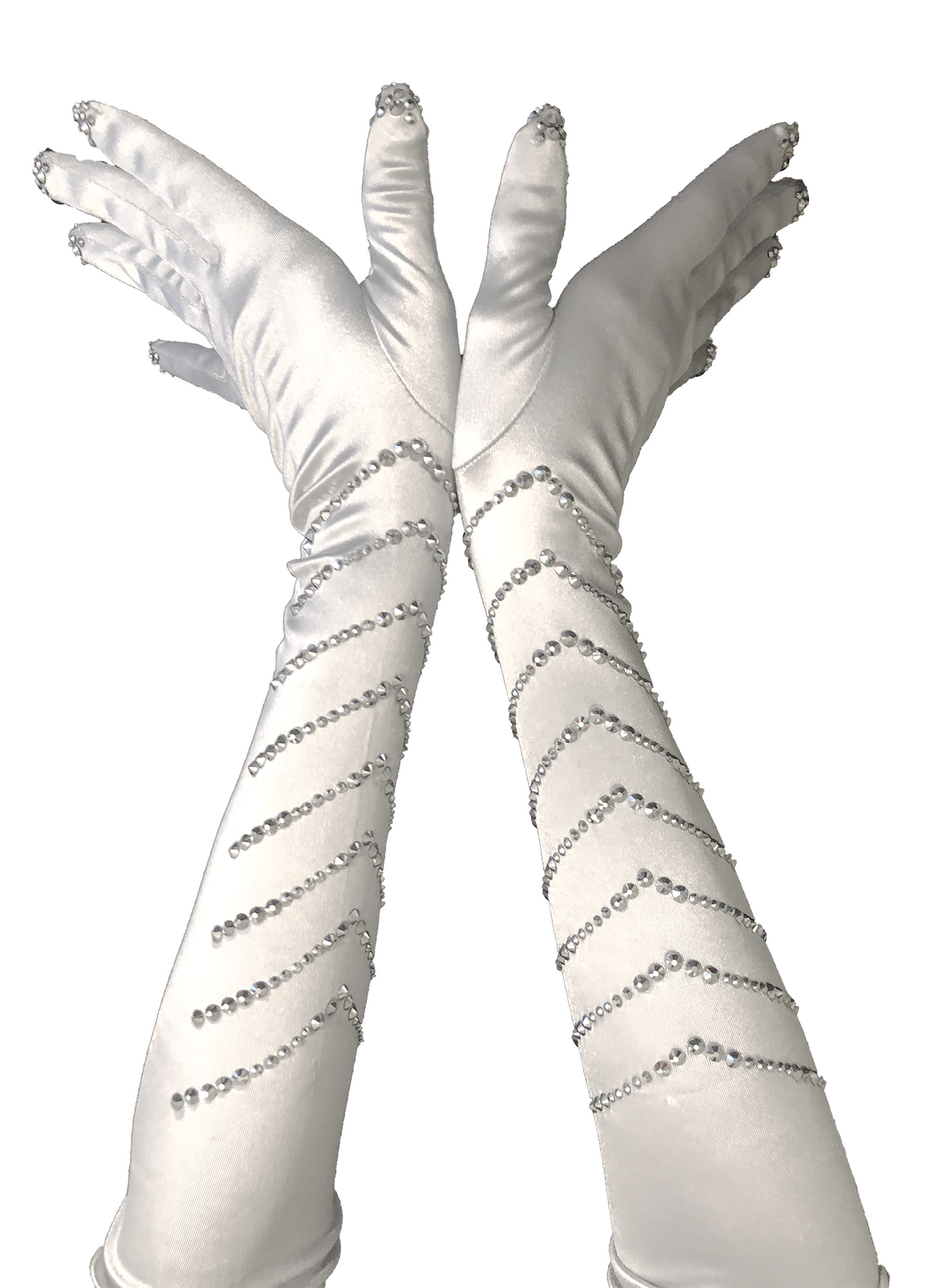 Alternative Design Option

Twirling Snowflake Pasties

Delivered Nov 2021
Spinning tassels are Great,
Twirling Snowflakes are AWESOME!
Something new and unique, twirling snowflake pasties were created to provide a blinging fun crafting experience. And the bonus? The fun continues when you put these pasties on and give them a TWIRL!!
A Special Accessory For Your Burlesque Wardrobe!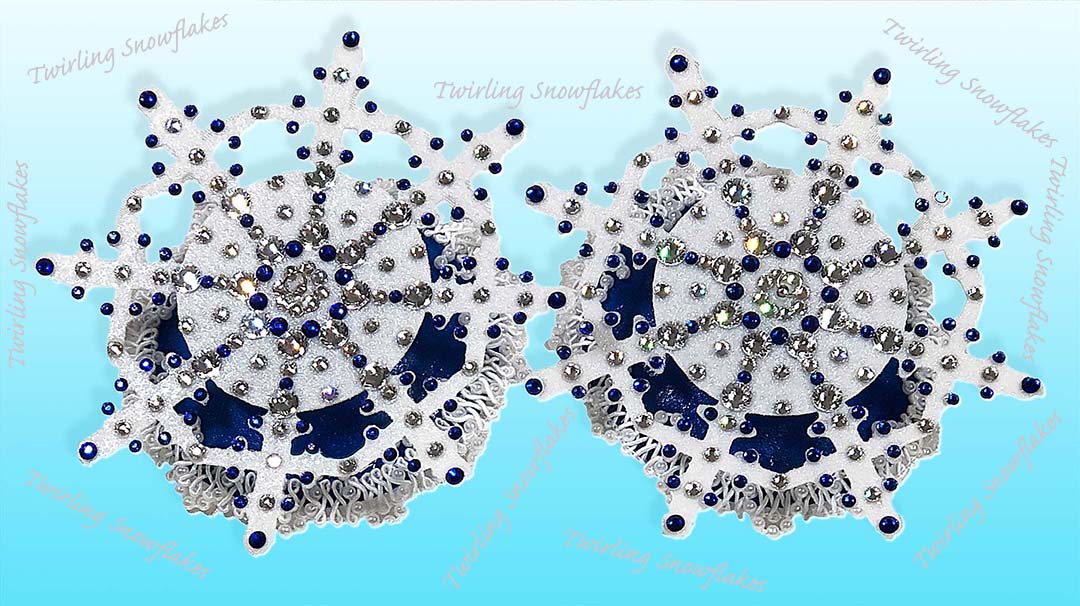 Twirling Snowflakes Craft Bundle includes: A Set of Custom-Designed Twirling Snowflake Pasties with 225+ glass rhinestones in Cobalt Blue &Crystal Clear in 4 sizes. Gem-Tac glue, pearl trim, 3 rhinestone trays, rhinestone pickerupper,  pastie tape (for wearing), misc tools &full instructions.   
 Fire & Ice Mask 
Delivered Sept 2021
The Fire & Ice Mask Craft Bundle features;
A one-of-a-kind mask with fall colored eye wings and sparkle everywhere.
3 different decorating layouts to choose from with instructions
And optional tulle accents for you to create.
A Fun Addition to Your Burlesque Wardrobe!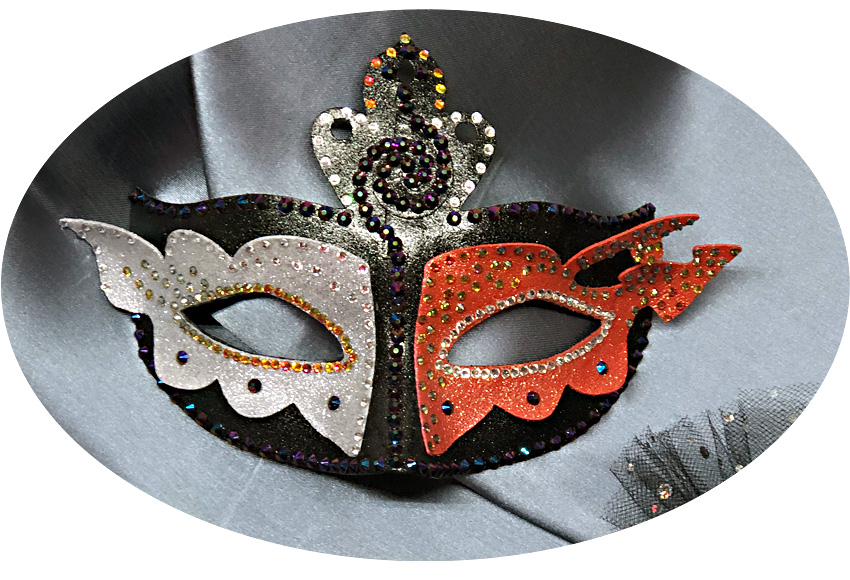 Fire & Ice Craft Bundle includes: A Custom-Designed Mask with reinforced strap slots, adjustable mask strap, 550+ glass rhinestones in Black Rainbow, Siam Chameleon and Crystal Clear. Gem-Tac glue, Holographic dotted tulle, 3 rhinestone trays, rhinestone pickerupper, misc tools and full instructions.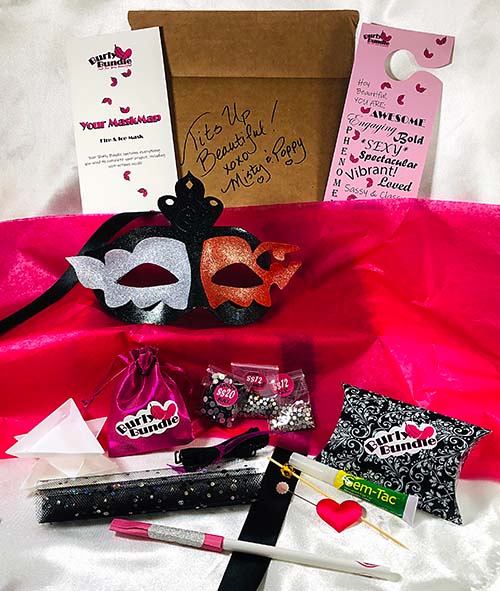 Check Out Our

Burly Companions-

No Subscriptions Required
You can opt-out of your renewal commitment at anytime

before your cut-off date*
| | |
| --- | --- |
| Order Before... | ...To Receive A Bundle In Mid- |
| December 31st | January |
| February 28th | March |
| April 30th | May |
| June 30th | July |
| August 31st | September |
| October 31st | November |
*Because of the nature of "Bundling" that goes on in our BackStage Shop, 1, 3 or 6 Craft Bundle Subscription Plans cannot be canceled mid-term, HOWEVER, you are able to opt-out of auto-renewal for your upcoming committment term within your Account Settings. You must opt-out before the cut-off date for your subscription.

Check out our FAQs for Complete Details
Ship Dates are around the 15th of Sept, Nov, Jan, Mar, May & July.  Shipping starts on the first business day closest to the 15th and runs through the 22nd of the month.
Order and Opt-Out Cut-off dates are; August 31st, October 31st, December 31st, February 28th, April 30th, & June 30th. All subscriptions purchased after the cut off date will be pushed to the following shipping date.
Burly Bundle Subscription Plans cannot be paused and monthly boxes cannot be skipped at this time.
Burly Bundles are nonrefundable and are ineligible for returns.